Rejoice My Hero Academia fans! A third movie is in the works! The movie plans to premiere sometime in Summer 2021. Originally, fans were under the impression that the second movie, My Hero Academia: Heroes Rising, was mangaka Horikoshi Kohei's finale for the series. However, Horikoshi stated "there won't be a third film. Probably" when asked about the second movie back in July 2019. It seems that Horikoshi's non-definite confirmation of the finale brought us the third film!
The title of the third movie has not be revealed yet. However, promotional photos were released. A combined, the photos state "He will meet 'The Three Musketeers'."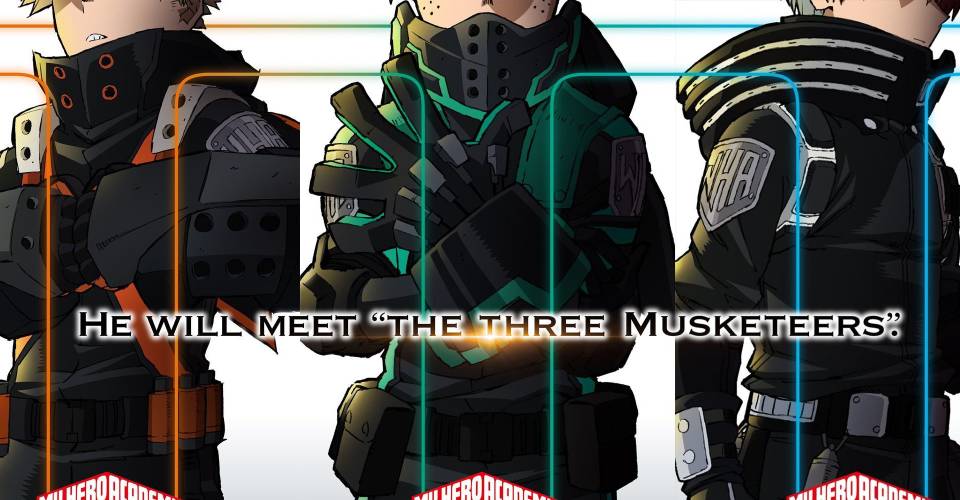 The photo depicts familiar characters Katsuki Bakugo, Midoriya Izuku, and Todoroki Shouto. However, nothing more about the movie has been released aside from the promotional photos.
Horikoshi, who was very delighted with the announcement, released a promotional drawing of the three characters.
Additionally, VIZ released Mangaka Musing on October 16, 2020. Each mangaka provided a quick quote about how their "manga, lives, or other random things" (VIZ). Horikoshi stated:
I'm sorry for taking a break! I can't say anything yet, but I'm drawing a lot. I should be able to announce it soon…

Horikoshi Kohei
It's possible that Horikoshi was referencing his work for the third movie since he's both the original character designer and chief supervisor. Let's hope we learn more soon!
In the past, the first film, My Hero Academia: Two Heroes, premiered in July 2018. The second film, My Hero Academia: Heroes Rising, premiered in December 2019. Both films were immensely successful and the second film even ranked #1 in the United States the day that it opened. With the popularity of the two films as well as the anime series, there is no doubt that the third movie will be a hit as well.
Gabriella is a 21-year-old writer and artist from Texas and currently goes to university in New York. Her favorite anime shows include Mob Psycho 100, The Disastrous Life of Saiki K, and Kill la Kill. In her free time, Gabriella likes to watch anime, read manga, and play the newest games on her Nintendo Switch.
Profile photo by ctr1zen